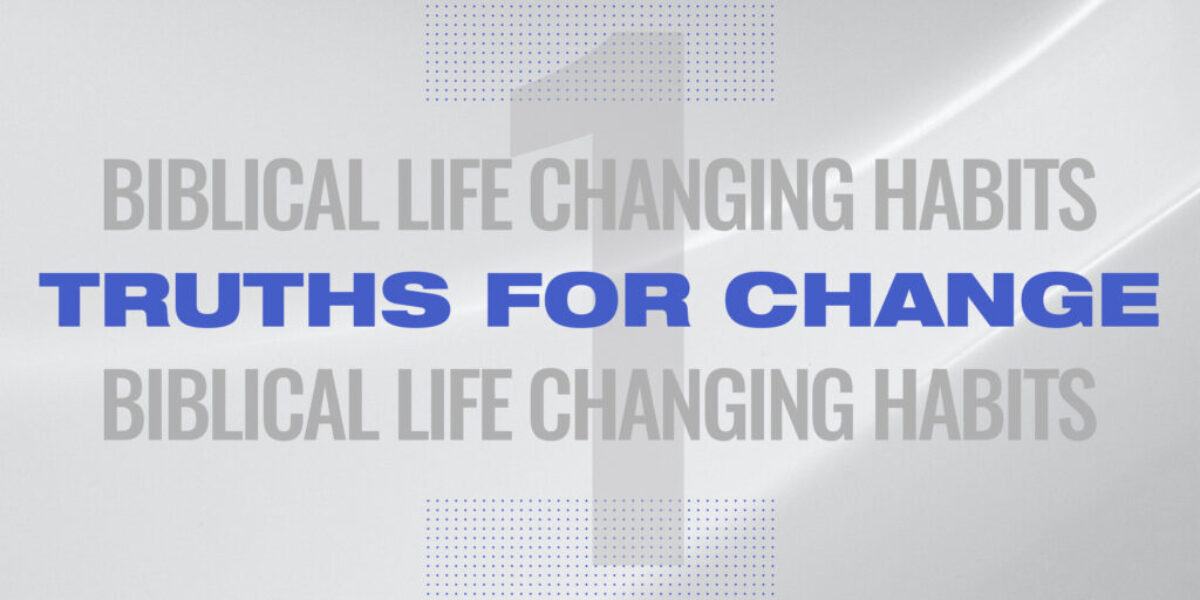 Truths For Change (Part 1)
Welcome! Today I'll be continuing on the subject of "Renewing the Mind." Last time I ended with 4 hindrances to change:
1. Change is wanted, but most of the time rejected.
2. Bad habits hinder change.
3. People can hold you back from change.
4. Fear of failure can stop moving toward change.
Now let me give you some "Change Truths" that will help you renew your mind and become transformed—changed from the inside to out.
#1 – Change Your Speech
"We can make a large horse turn around and go wherever we want by means of a small bit in his mouth. And a tiny rudder makes a huge ship turn wherever the pilot wants it to go, even though the winds are strong." (James 3:3, 4)
This Scripture is awesome! It shows us the power of a controlled mouth. There are two pictures to see here. One is the bit in the horses mouth that will make the horse turn quickly. The second is the rudder on the ship which takes a longer sweeping turn. Both are turning direction one just takes a little longer than the other. The horse and the ship represent you. The bit and the rudder are used to represent an "in control" tongue. This is speech that can and will bring change! You can turn your life around quickly, or sometimes it'll take a little longer. Ultimately, it will bring change.
Listen friend, your life will move in the direction of your speech, so change your speech and you will change your life! Yes, it is that simple! The not so simple part is the process of changing your thoughts that change your speech. This takes time and commitment to change.
I can give you 4 Speech Keys that can help you on your journey of mind renewal.
1. Don't use your words to describe your life… use your words to design your life.
2. Don't speak what you experience… speak what you expect.
3. Don't overthink- speak the new Truths concerning you if you believe them or not. Remember, you are saying things that took time to become belief in your life now.
4. You don't win by outthinking the devil. You win by speaking! In Matthew 4:1-11, you see Jesus being attacked by satan, and His victory is in what He says to the devil-It Is Written!
"Death and life are in the power of the tongue…" (Proverbs 18:21)
It is interesting to note here that the word for "power" in the Hebrew is the word "yād" which is hand. This "hand" in the Bible context means strength, power and it's used to convey God's Power!
"Both riches and honor come from You, And You reign over all. In Your hand (yād) is power and might; In Your hand it is to make great And to give strength to all." (1 Chronicles 29:12)
This is why it is so important for a Jesus follower to understand the "power" of their words. Let me share with you a story in the Bible that I believe will help you on your road for change.
In 2 Samuel chapter 9, you will see a story concerning David's desire to fulfill a covenant promise that he made with Jonathan (King Saul's son who died in battle). King David said, "Is there not still someone of the house of Saul, to whom I may show the kindness of God?" Notice he says "the kindness of God." This is an awesome Scripture. Every other king would be looking to kill anyone related to the before king's family. David on the other hand wanted to be a blessing! David couldn't show any love or kindness to Jonathan, so he looked for one of Jonathan's relatives to whom he could express his affection through God's love.
Jonathan had a son whose name was Mephibosheth. He was in line to be king after Jonathan. Mephibosheth's life didn't turn out the way everyone thought it would. No, he had a very rough life. He was not only poor but crippled in both feet as well. The story shows us that he saw himself as a "dead dog!" Why did a grandson of a king look at himself with such disdain? If you read 2 Samuel 4:4 you will see why. He was hurt because the nurse that was carrying him was fleeing the castle because Jonathan and King Saul where dead. She knew what happens to the offspring of the royal family, death! As she was running she dropped the child and he became crippled from that moment on.
Now imagine his life from there. He is being brought up by someone that has no idea of the covenant of love between Mephibosheth's father and King David. She raises him letting him know that he is crippled because of David. He is raised in fear and his identity is created because of it. Is it the truth? No, but it is the truth to him! He is not only physically crippled but mentally as well! Now let me break down this story that pertains to us today.
King David's motivation for seeking Mephibosheth was not because he felt sorry for a crippled man. His desire was to honor Jonathan, the father. He did what he did because of the covenant. Remember, Mephibosheth does not deserve anything from David but death. We too are in this same picture! We are called and saved, not because we deserve anything from God, but for the sake of God's Son, Jesus Christ. God in His grace gives us what we don't deserve, and in His mercy doesn't give us what we do deserve! We too have been brought up believing the lies of an angry God. A God that is looking for reason to hurt us. A God that is desiring to judge us and to make us pay! This is the training of religion and the world. The Truth is revealed to us in Scripture;
"For God so loved the world that He gave His only begotten Son, that whoever believes in Him should not perish but have everlasting life. For God did not send His Son into the world to condemn the world, but that the world through Him might be saved." (John 3:16, 17)
Praise God! Because of the covenant between the Father and the Son Jesus, we too receive God's love, mercy, grace and all that belongs to Him become ours!
King David made the first move to rescue Mephibosheth. This should remind us that it was God who reached out to us and not we who sought Him. The Bible says that we were once enemies of God (not because of Him, but because of us), yet He loved us and sent His Son to die for us. "But God demonstrates His own love toward us, in that while we were still sinners, Christ died for us." (Romans 5:8)
David told Mishbosheth that he would from this time forward eat at his table and lack nothing! He would be cared for and protected as a son (adopted) of the king! Remember, Mephibosheth looked upon himself as a "dead dog", and we were "dead" in our trespasses and sins when Jesus called us and gave us new life (see Ephesians. 2:1-6). He would sit at the table with the king and we sit on the throne with Jesus Christ and reign in life through Him (see Romans 5:17). The Father gives us His unconditional love, he provides are needs, he takes care of us, he protects us! Mephibosheth lived the rest of his life in Jerusalem and we are already citizens of the heavenly Jerusalem, where we will live forever with the Lord (see Hebrews 12:22-24).
Please let these Keys sink into your life! I have watched over the years so many people get dropped/hurt in life because of religion in people and churches and become crippled in their thinking from that moment on. They live a life with an "unworthy dog" mindset and stay crippled in their identity. Let's not let others hurts or offenses rob us of God's Truth. Let's not allow our old way of thinking rob us from God's covenant of love! Let's sit at the table with Jesus and live the kings life that He has given us!